I Teach Authentic Business & Marketing
As you look around my site, you'll keep seeing the phrase "authentic business". Here's my definition:


The products/services are deeply meaningful to you, whether you are creating your own, or selling others' products.


The ways you market your business feels like an honest friendship and an act of service towards your audience and your collaborators.


Your business is consistently meeting reasonable financial goals that you've set (rather than hype and fantasy).


Rather than stressful hustle or painful resistance, you operate your business from a joyfully productive mode of working!
"George is fantastic at giving gentle reminders and helpful tips to clear your way through the chaos of noisy marketing and find your way back home. I love his work!"
Since 2009, my full-time work has been coaching, mentoring, and teaching people to create sustainable & joyful businesses.


I specialize in helping people develop an engaging social media presence -- via Facebook, Instagram, Linkedin, Youtube -- and to nurture an authentic online reputation through their own blogs, videos, and books.

Clients seek me out when they want to grow an audience, stabilize a good income, and structure their work life so that they can experience deeper joy and freedom.

​​My mission is to deliver the best coaching and content that empowers every coach, healer, and teacher to (1) do their marketing in an authentic way and (2) operate their business with joyful productivity.

The values that inspire me: generosity, warm-heartedness, diligence, humility, light-heartedness, gentleness, balance, and authenticity.

"Many coaches only talk about being authentic -- George Kao is truly an example of that! His approach is so different. 
I've been following his work for some time now, and I'm deeply convinced of the quality he offers and delivers through his courses and content.
​I don't know any other marketer with such high values, living them authentically himself."
How I'm Different
I love helping Coaches, Consultants, Healers, and Course Creators. If you are a service provider who supports clients in their personal growth, I can help your business.

When I first started my business in 2009, I earned my income by selling expensive trainings of $2,000 per course. Towards the end of 2012, I experienced a spiritual transformation and decided to make a radical change in my business. I lowered the price of my courses by a lot (see: George Kao's Courses), and I began offering more in-depth group programs to support clients step-by-step in their marketing and operations. Much of my content is now given away for free through my blog and videos.

I've published five books: 

Principles of Authentic Business: Create a Sustainable Livelihood from the Heart

​Authentic Content Marketing: Build an Engaged Audience for Your Personal Brand through Integrity & Generosity

Joyful Productivity: A Solopreneur's Guide to Creativity & Well-Being
 
Authentic Selling: How to Gain New Clients through Connection, Caring, and Service
Soul Gym: Simple Principles for Spiritual Fitness

I am happy to have created a sustainable business that is fulfilling and creates positive transformation for my clients and audience members!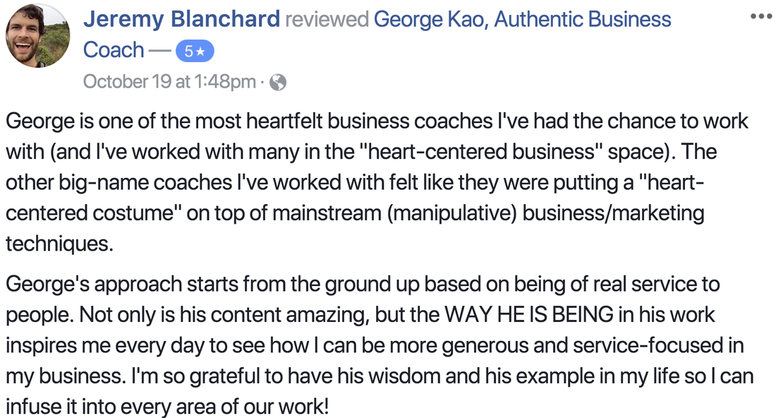 My Experience with Worldly Success

Within my first year as a solopreneur, I exceeded $10,000/month in revenues by rigorously applying the techniques I taught -- how to do social media marketing, as well as forming effective JV's (joint ventures).
By my 3rd year in business, my Email List had grown to 10,000 subscribers and my annual revenue was $350,000.
I was running all parts of the business myself: Marketing, Sales, Joint Ventures / Affiliate Relationships, Coaching, Speaking, Administration, Finances, Technology, and Customer Service.
Yet I spent no more than 40 hours per week on all of this, while working from home, and taking at least 4 weeks off per year.
I am intimately familiar with all aspects of creating, running, and growing a coaching & teaching business, while having a good work-life balance.
My Spiritual Transformation

A few years into business, I began to experience a profound spiritual shift.
I went from primarily caring about my own revenues and profits, and what I could "get" from others … to wondering what kind of legacy I was leaving, what kind of impact I really was having on my clients and audience members.
These questions kept coming to heart: 
If I had 6 months left to live, what would I do to share my gifts with the world?  
What is my highest work?  
What kind of ripple effects am I causing with my business? 
What values am I spreading through my actions, not just by using words like "conscious, holistic, heart-based" in my marketing?
In truth, I had been using lizard brain marketing, which is widespread online because it has a powerful short-term effect in converting visitors to buyers. A few years into my business, I was finally willing to admit that such practices are fundamentally manipulative.
Since that time, I have made the transition towards conscious marketing.
I also came to realize that even though I was highly successful with marketing and sales, -- and my students often said that I was a good teacher -- I was deeply dissatisfied with how few of them were implementing and reaching the kind of results my sales pages had been promising.
This lack of alignment is surprisingly common in my industry of Marketing & Business Coaching, especially programs that promise "6-figure" or "7-figure" incomes.
I could no longer accept the gap between my marketing and the reality of my impact.
Creating a Joyful, Sustainable Business
Starting my 4th year in business, I intentionally reduced my work (and income) to an "enough" level... enough to maintain a healthy, modest lifestyle, and have plenty of free time.
Where my family and I spend more than the typical American is in organic & locally-grown produce, sustainable household products, and coaching/healing services.  We aim to live frugally in other ways. We rarely travel. We share one modest car and don't own any fancy gadgets. We also don't happen to drink alcohol... we're tea drinkers.  And we rarely buy new clothes or furniture.
The dream of the typical Instagram influencer -- "7 figure income" and lavish lifestyle -- does not resonate with me.
I dream of a world where everyone can do the work they love, be sustained financially, and have plenty of time to spend with loved ones and pursue their passions.
Explore my favorite strategies & tips for growing a business in a spirit of love and service.

Join my community of kindred spirits that are supporting each other to grow their true livelihood.
Connect with me on social media or email me your questions.